Embry-Riddle, an ASSURE Research University, and AIRT Partner to Study Public Safety and Emergency Services Use of Drones
Embry-Riddle Aeronautical University, a premier aviation and aerospace institution has announced a partnership with the Airborne International Response Team (AIRT), the 501(c)3 non-profit organization supporting the use of unmanned systems for public safety and disaster response to collaborate on education and research exploring how first responders are deploying small unmanned aircraft systems (sUAS) within the National Airspace System (NAS).
Under the Agreement of Cooperation, AIRT – the official home of DRONERESPONDERS – and Embry-Riddle will conduct research and facilitate educational initiatives to deepen understanding of how public safety and emergency services organizations are utilizing sUAS compared with other aviation use cases in the NAS. The research will also examine how drones operated by external parties may be impacting traditional public safety operations including law enforcement, firefighting, and emergency management missions.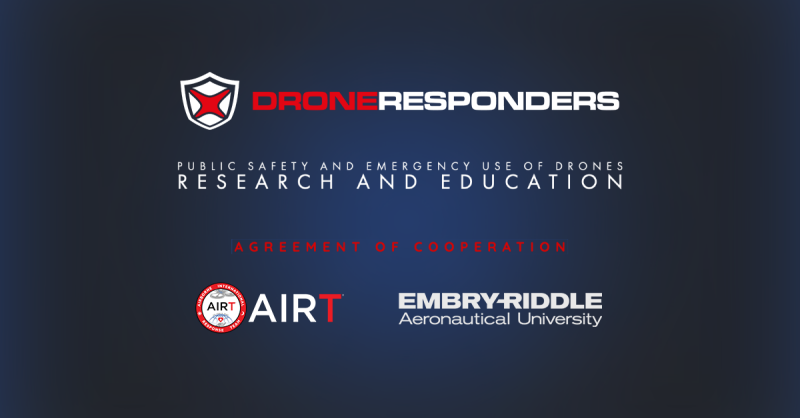 "AIRT and the DRONERESPONDERS have established themselves as the leading non-profit voice in the public safety sUAS sector, said John M. Robbins, Ph.D., chair of the Aeronautical Science Department at Embry-Riddle's Daytona Beach Campus. "This partnership will help us integrate first responder-centric data into the research we are presently conducting."
The partnership will complement Embry-Riddle research projects currently underway as part of their Alliance for System Safety of UAS through Research Excellence (ASSURE) grants awarded by the U.S. Department of Transportation's Federal Aviation Administration (FAA). These initiatives, such as the ASSURE A50 Small UAS Traffic Analysis Project, are directly related to operational safety in the NAS. AIRT has been an organizational partner of ASSURE since 2020.
"As the largest accredited university system specializing in aviation and aerospace, and with a residential campus based here in Florida, Embry-Riddle is an ideal partner for us to collaborate with to better understand how public safety sUAS operations are impacting the NAS," said AIRT Executive Director Christopher Todd. "We'll leverage the power of the DRONERESPONDERS program to provide robust insights that bolster the public safety portions of the ASSURE research."
DRONERESPONDERS recently announced the Florida Public Safety Coordination Group as their first state-level initiative to organize drone training and cooperation between emergency response agencies. Todd believes groups like this could benefit significantly from the research that Embry-Riddle and other ASSURE partners are conducting by allowing them to better evaluate the airspace and low-altitude aviation traffic within their respective jurisdictions. He expects the findings will be extremely valuable for public safety initiatives such as Drone as a First Responder (DFR) and will also assist in determining how future beyond visual line of sight (BVLOS) operations are executed will all types of UAS.
"Working alongside Embry-Riddle and the other ASSURE partners will allow us to help shape the next generation of aviation operations," says Todd. "This will ultimately lead to increased safety in the NAS for all partners and stakeholders."
Submitted Press Release